Scylla: The Revenge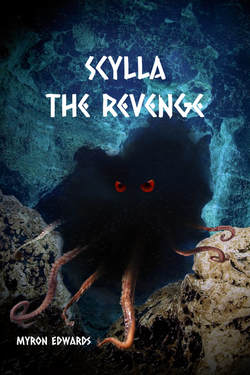 Larnaca Offshore, Tuesday
Sun Divers had been operating in Cyprus for the past eight years, and in all that time, they had put hundreds of people through PADI diving courses. But the recession had bitten Sun Divers hard and whereas they used to make three or four trips out to the wrecks off the coast, they now just made one a week. And that was to the MS Zenobia; the roll-on-roll-off Swedish cargo ferry that had capsized on its maiden voyage on the third of June, 1980, with a full complement of cargo. Fortunately, all the crew got off safely and there were no casualties, but as the ship listed and salvage became impossible, the MS Zenobia sank into the waters off Larnaca on June 7th at 2:30am to take up its permanent position at 34'53.5" N, 33'39.1" to become one of the world's most spectacular wrecks, still with its two hundred million pounds' worth of cargo on board.
For Lenny Speagel and his wife, Jenny, the MS Zenobia had become a bit like a second home. Both knew the vessel well, treated it with the greatest respect, and often reminded themselves of its track record of four diving deaths. Whilst most areas of the ship are safe and accessible, other parts can be deadly, as it is all too easy to get lost. Once that happens, the chances of finding your way back before the oxygen runs out are remote. Fortunately, none of the divers at Sun Divers had ever been in that position. Lenny liked to keep a tight ship.
As the boat made its way out from Larnaca, the six men and women began to kit-up with last-minute adjustments in preparation for their dive. Jenny was pleased with the group because they had all dived the wreck before, which meant that she too could go down, and not babysit this time.
The sea around the wreck was calm as the boat came to a gradual stop then dropped anchor. The first two divers leaned against the side of the hull and disappeared backwards, over, and under the water. The small bubbles that surfaced showed their equipment working well.
Jenny put her mask on and waited for Lenny, as he tied a rope around the remaining air tanks and together they joined the others in the crystal blue ocean. Dressed in wetsuits, it was difficult to gauge temperature and the water's glass-like clarity created the impression of coolness as they filed past a few fish stragglers. As they swam deeper, silt and sand billowed towards them. What was causing it neither was sure.
The Zenobia was, at forty-two metres, lying on its side on the seabed. Some of its cargo, including a few of the hundred plus lorries, scattered over the bottom. To the rear of the vessel, more spilled cargo littered the floor, including pots of paint, rusting air conditioners, and some Tonka Toys, which made the scene even more surreal.
Jenny looked around to see some of the group entering the wreck and motioned to Lenny that she was following them. His raised thumb indicated his approval and he moved away towards the bow. Once inside, she began to explore, her air bubbles the only audible sound as she scooted in and out of the deck. Even now and after all these years of diving, she sometimes still discovered new things that she had not seen before, for as she moved down the ship gangway, she spotted a shiny object. It was a small silver coin, possibly a Swedish Kroner that had wedged itself into a grating on the deck. She placed it inside a small pocket on her wetsuit before moving back along her chosen course.
Just ahead, something caught her attention; something else was moving. She wasn't sure what it was, but it looked black in colour and had a distinct side to side movement. As she drew nearer, she reached for her small waterproof torch; it would give her just enough light to check it out.
As the shape moved away from her, Jenny followed cautiously, and checked her watch; she had about ten minutes of air left and should turn back, but this was somehow exciting as she followed the unfamiliar shape.
Moving stealthily along the decks, visibility decreased rapidly and it became difficult to see what undulated and slithered ahead of her. The feelings that crept through her were no longer that of excitement, but anxiety, and dread that something might be lying in wait for her. It made no sense to go on, especially as she could not see two feet in front of her nose, but she quickly put those fears aside and continued the chase.
What became instantly obvious was the intense stillness. All wrecks creak, and occasionally rattle, the MS Zenobia was no different. But today she was silent, and with each move Jenny took, she felt herself being drawn further away from where she needed to be. As she moved slowly, cautiously, she hoped Lenny was already looking for her. She clicked the torch on and the beam lit the floor below her. How far she had gone down she wasn't sure, as she was not familiar with this part of the ship.
A few more strokes with her gloved hands and an open door appeared before her, with just enough room to squeeze through. This was new, somewhere she had never been before and had to push hard against the metal to open it. With her torch piercing through the darkness, she scanned the surrounding area, and felt a surge of water enter the room, followed by a much larger gushing sound as the floor began to open below her. Looking down and through the half-light, two large bright red eyes moved towards her, slowly then at a rapid speed, faster and faster they came at her. Frozen by fear, she only managed to stare back at them, then she turned, and banged on the door.
She dropped her torch, its beam shining down into the hole, and the sudden bright light distracted whatever it was that was coming for her. She turned, again trying to get away. Pushing herself through the door as fast as she could, she felt her legs freeze and her body shake, it was all she could do to stop herself from urinating in her wet suit, the terror too real, as whatever it was, moved back into its sanctuary. Fighting for every breath, she struggled to find the exit. The air now very low in her tank, she saw daylight, or what she thought was, and left the wreck, pushing out her arms and legs in a frantic motion, and began swimming straight for the surface.
Lenny was still below the water looking for her when he spotted her swimming to the surface. He came up at once and swam quickly to his wife, holding her as she ripped the mask from her face. Tears streaming down her face, she shook visibly in the water as if wrapped in ice. He didn't say anything, just eased her closer to the edge as two of the men on the boat leaned forward to drag her on board.
---